Publication Acknowledgements
MMT: Observations reported here were obtained at the MMT Observatory, a joint facility of the Smithsonian Institution and the University of Arizona.

MAGELLAN: This paper includes data gathered with the 6.5 meter Magellan Telescopes located at Las Campanas Observatory, Chile.

TELESCOPE DATA CENTER: This paper uses data products produced by the OIR Telescope Data Center, supported by the Smithsonian Astrophysical Observatory.
MMT maintains an ADS library of MMT publications. To help keep this listing up to date, please send an email to Susan Wahl (swahl@mmto.org) with the title of any paper using MMT data, along with the journal reference.
Magellan also has an ADS library of Magellan publications.
Data Archive
Raw data is distributed directly to PIs.
The OIR Science Archive, a public archive of processed spectra, is located at http://oirsa.cfa.harvard.edu
Subscription Rate plot for MMT & Magellan (click image)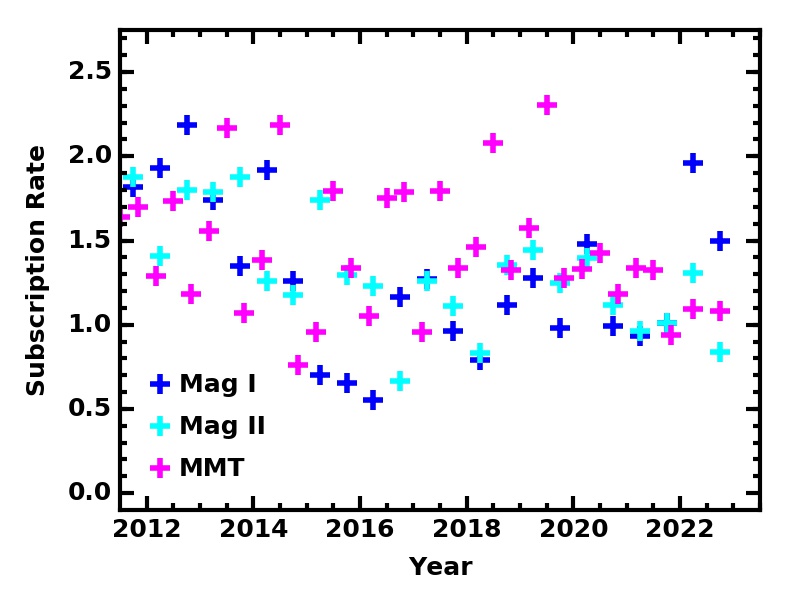 Timeline of TAC process
The TAC Chair announces the call-for-proposals roughly 1 month prior to proposal deadlines.
The TAC meets 3-4 weeks after the proposal deadlines. Each TAC member reads, ranks, and recommends time allocation for all proposals.
The TAC Scheduler sends the approved time allocations to the appropriate staff at MMT, Magellan, and FLWO, and helps coordinate the scheduling of CfA time requests.
Telescope schedules are completed about 1 month before each semester begins. The TAC Chair sends notes to PIs who did not receive telescope time; MMT, Magellan, and FLWO staff send notes to PIs about scheduled nights.
Time Allocation Committee: Warren Brown (Chair), Nelson Caldwell, Andrea Dupree, Scott Kenyon (Scheduler), Dave Latham (FLWO), Tony Stark, Grant Tremblay, Ashley Villar, Steve Willner
MMT Council (CfA Members): Lisa Kewley, Warren Brown, Daniel Eisenstein, Dan Fabricant, Nelson Caldwell (Chair)
Magellan Council (CfA Members): Lisa Kewley, Edo Berger
Magellan Science Advisory Committee (CfA Members): Charlie Conroy, Martin Elvis